Liver and onions with gravy
This is a simple recipe that shows you how to make liver and onions with gravy.
Liver and onions with gravy is a typical English dish that has been around for years. However, it is a little bit like Marmite – you either love it or you hate it.
Not everyone likes eating liver, as it does have quite a strong taste and unusual texture. However, some people are very partial to liver and just love it. It is very personal.
This old-fashioned liver and onions recipe will show you how to cook some lamb's liver, bacon and onions in a tasty gravy.
Liver is an acquired taste. This recipe uses lamb liver but beef or pork liver is also sometimes used.
To be perfectly honest, I personally prefer chicken livers, but I have had some trouble finding those locally.
In the Netherlands, I could buy chicken livers in the supermarket, but not here in Ireland, although our butcher does sometimes stock them frozen. Lambs liver, however, is more common and readily available in the supermarket.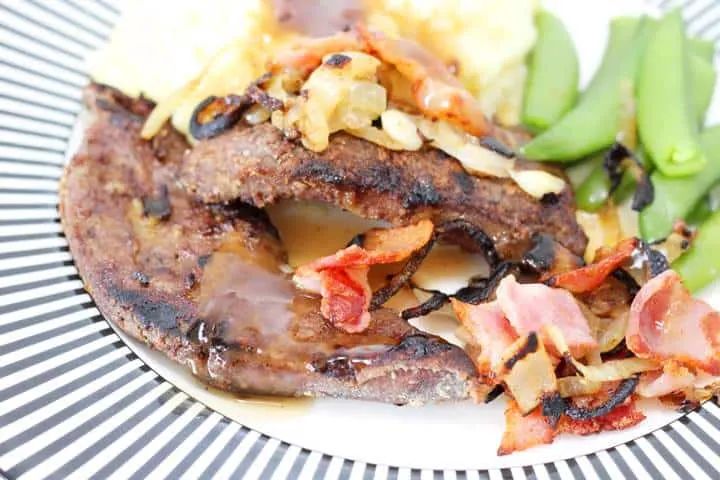 If you are a liver fan the nice thing about this recipe is that it is cheap, quick and easy to make.
And if you are a bit handy you can make it all in one pan.
Should you soak liver in milk?
If you Google around, you will find a bit of a discussion on the net about whether or not to soak the liver in milk before cooking it.
Soaking liver in milk removes some of the blood from the meat and hence does make it taste less gamey and metallic. It also tenderizes the meat and removes the bitter taste.
However, some say that the calcium in the milk will bind with the iron in the liver, taking away some of the goodness. Others say that the milk will take out any toxins that may be present.
One thing is certain, it is a well-established part of the process of cooking liver, so it is worth trying if you are not a regular liver eater.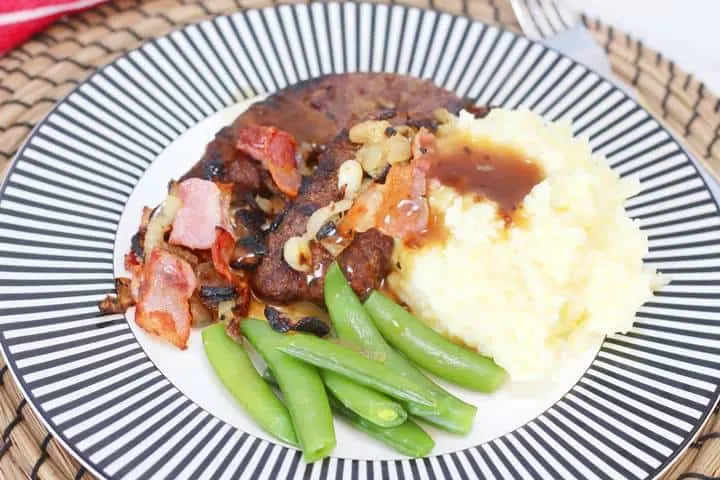 Liver, bacon and onions have always gone well together. Their individual tastes complement each other perfectly and they belong together on a plate.
One thing is certain, the taste and texture of liver is very person-dependent. So if you have never tried it, YOU MUST GIVE IT A GO!
Another of my favourite meals as a kid was chicken livers with bacon and white rice, served up with plenty of Heinz tomato ketchup. I used to love it when my Mum used to dish this up for us.
I did recently find some fresh chicken livers on a visit to Cork's English Market, so you can find another link to this recipe at the end of this blogpost.
Serve up this dish together with some parsnip mash or mashed potatoes and some greens.
I hope you enjoy making this dish. If you do, please let me know how you get on in the comments section below!
How to cook liver and onions
Serve up with:
This is my personal favourite liver recipe:
Other accompaniments could be: