Slow Cooker Short Ribs
Slow cooked short ribs are a delicious way to cook one of the tastiest cuts of beef cattle. Short ribs after slow cooking become very tender and they are very affordable. This piece, which included 3 bones was about 7,50 Euros and it fed three of us.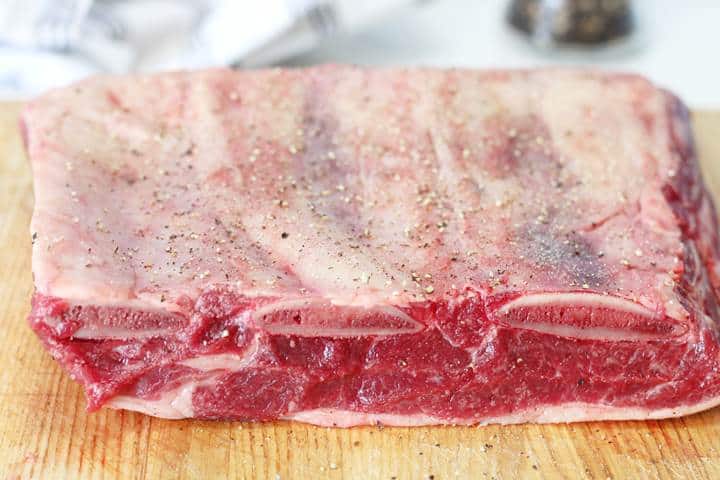 Cooking the ribs on the bone just improves the flavour of the sauce as the flavour from the bone marrow gets incorporated into the mix. When you have finished cooking the meat is so tender it falls off the bone and melts in the mouth.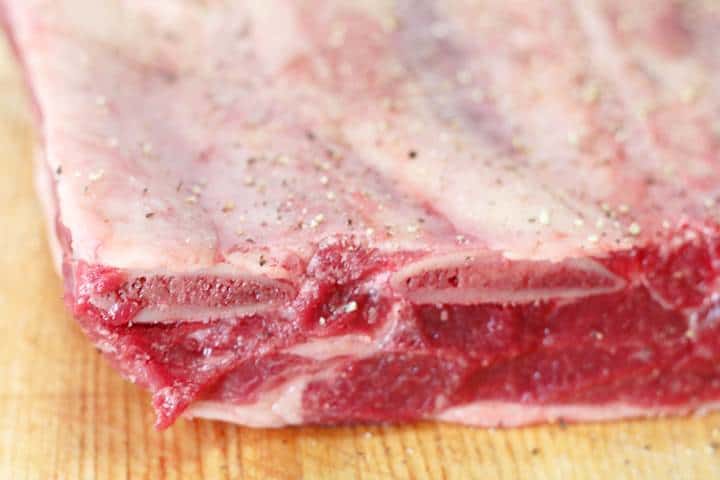 In Holland they have a dish called 'sucadelapjes'. This is a piece of steak (I think chuck ) that is slowly cooked in liquid (stock/beer etc) and onions and produces what they call 'draadjesvlees'.
This is also very tasty, but not quite as tender as the ribs, because the ribs tend to have a bit more marbling of fat before cooking. But it gives a similar result with the meat kind of dissolving away deliciously in your mouth.
I may put a recipe up here one day if I find some suitable meat.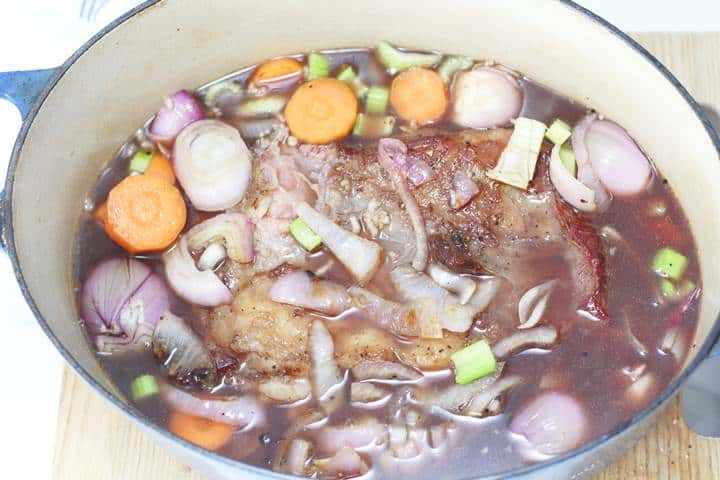 Kruger National Park
Making this dish reminded me of a trip I once made in South Africa in the early 1990's. I stayed in Skukuza in Kruger National Park. There was a restaurant inside a beautiful old steam train where we were served kudu, buffalo and crocodile.
I searched on the internet and suppose it must have been the Selati Station Grillhouse but I am not sure if it is still open.
You would have to check. Back then it was very special.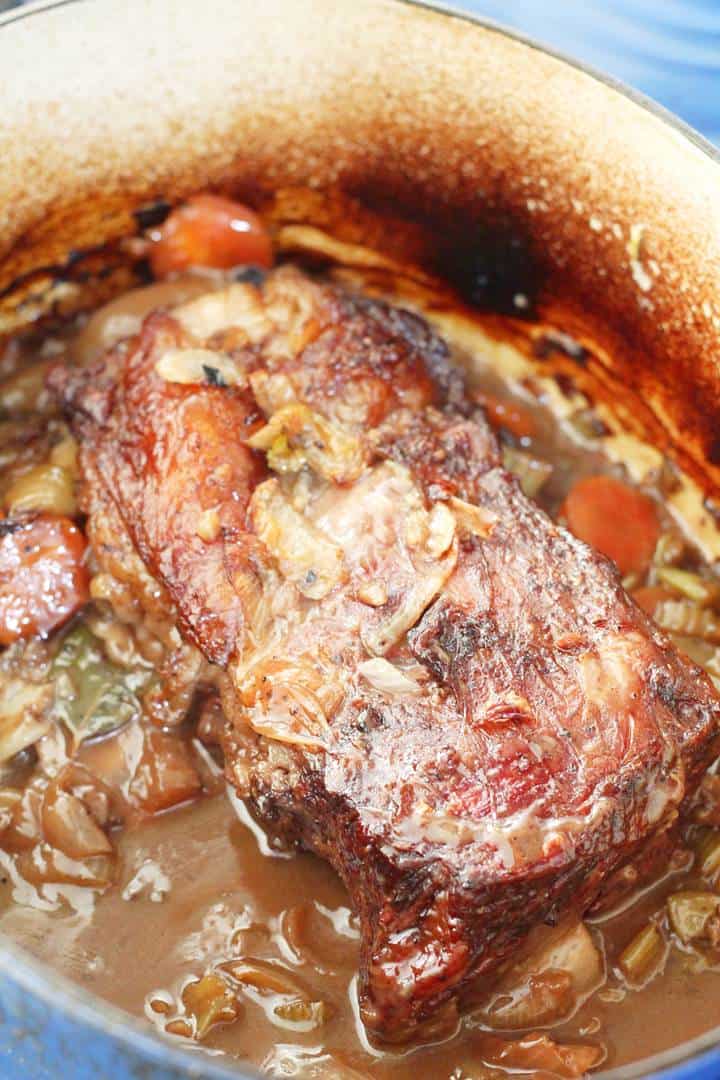 I was told the Kudu had been marinated for a year in a huge vat (whether it was true I have no idea).
In any case it was the most delicious and tender piece of meat I have ever tasted. The buffalo was like the Dutch draadjesvlees and also tasted good. I remember the crocodile tasting a bit like chicken.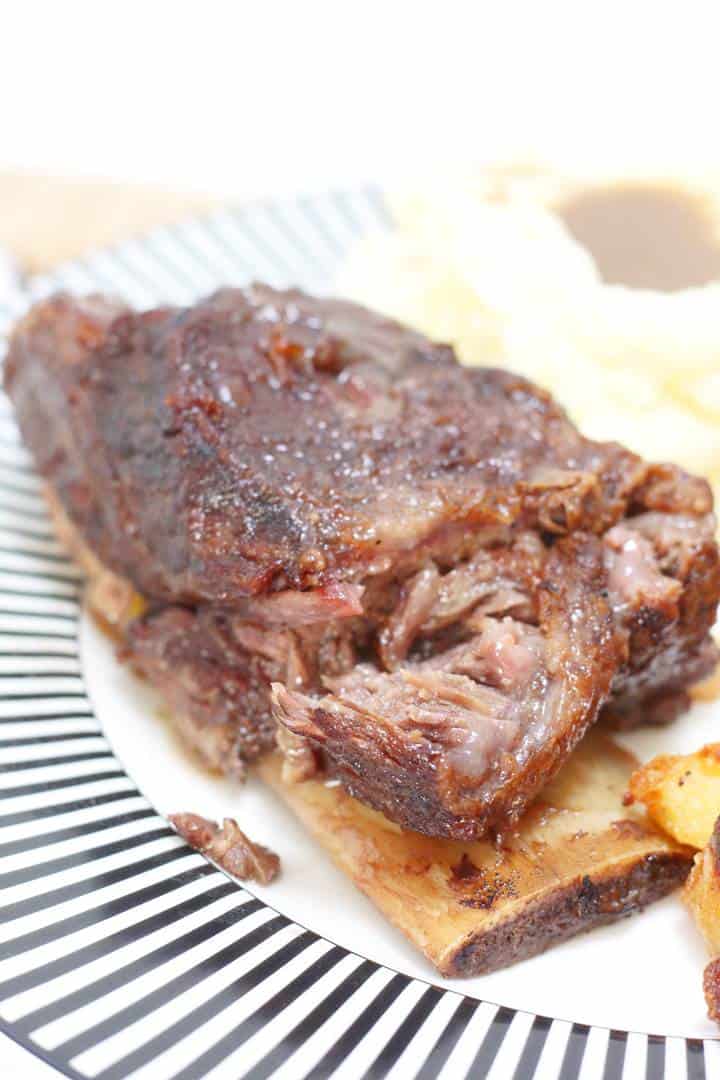 The highlight was when at some point there was a whistle and the sound of a train running on old tracks. Then the train started shaking and when we looked outside we saw the fantastic Mozambican waiters rocking the train back and forth. It was quite an experience.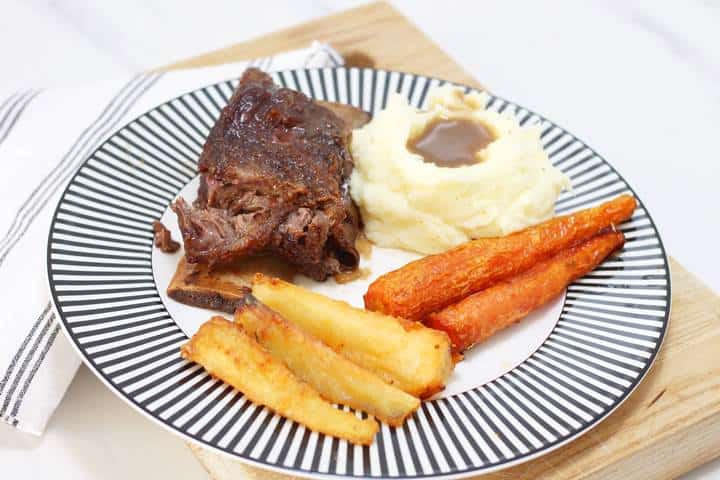 This slow cooker short ribs recipe is ideal for a crockpot. I have used my Dutch oven as I do not yet have a crockpot, but the process is the same. Simply prepare meat and vegetables on the hob, and finish in the slow cooker. The results should be the same.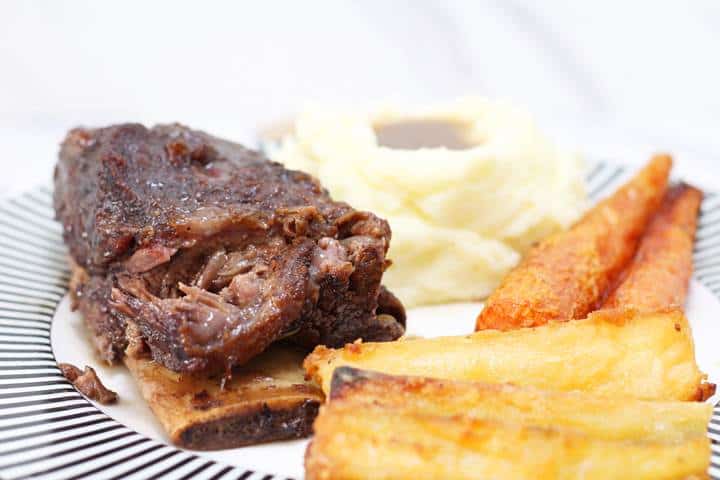 Good luck and let me know how you get on in the comments section below!
How to make slow cooked short ribs
Slow Cooked Short Ribs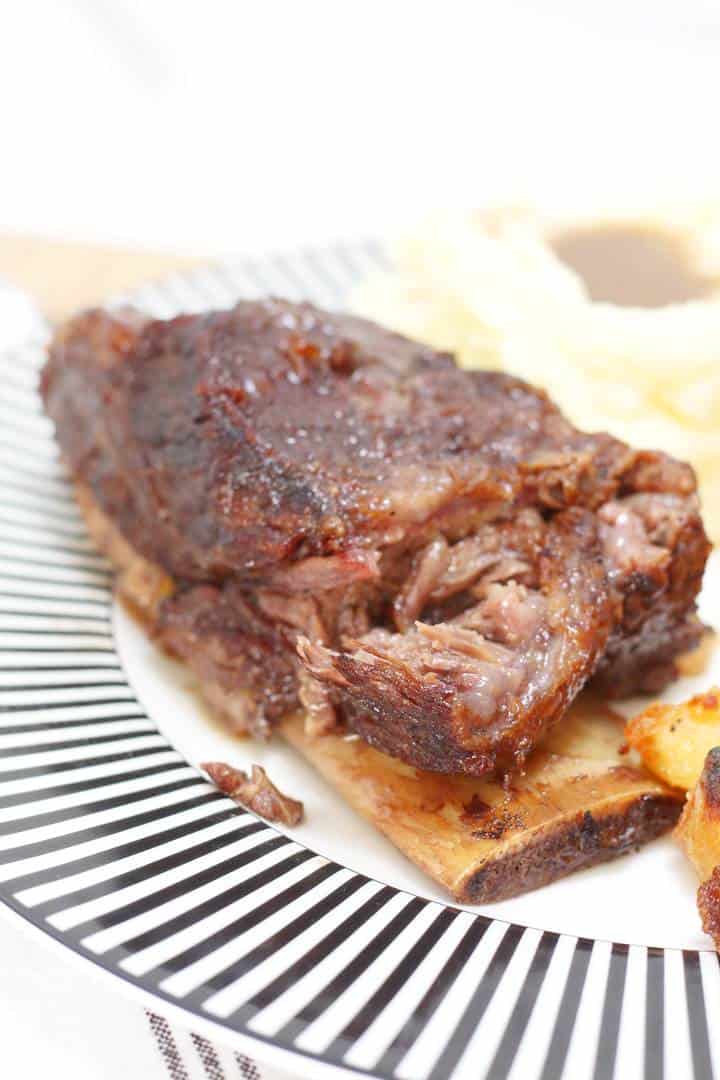 These slow cooked short ribs are delicious and your guests will be coming back for more, so make sure you make enough! Cheap and tasty!

Prep Time 15 minutes

Cook Time 2 hours 30 minutes

Total Time 2 hours 45 minutes
Ingredients
1 kg short ribs
Vegetable oil
2 red onions, sliced
3 garlic cloves, crushed
3 shallots, skinned and kept whole
2 celery sticks, chopped
1 carrot, chopped
450 ml beef stock
100ml red wine
2 Fresh Rosemary sprigs
2 bay leaves
2 tbsp Worcestershire sauce
Salt and pepper
Instructions
Pre-heat the oven to 180C. Let the ribs reach room temperature before starting.
Remove any excess fat from the beef. Pat down with kitchen paper to dry off if necessary. Cover both sides of the beef in salt and freshly ground pepper.
Then sear both sides of the ribs in a pan with the vegetable oil. When browned then put them aside in the casserole dish.
Prepare the vegetables and then fry the onions in the same pan and add to the meat. Then sautee the celery and chopped carrot and add to the casserole. Then add the stock, wine, garlic, Rosemary sprigs, Worcestershire sauce and bay leaves to the casserole.
Make sure that the ribs are almost covered by the liquid. If not then add some more stock.
Place casserole in the oven. At 2 hours check the level of liquid in the pan. If need be, top up with stock or wine. Cook for another 30 minutes and check that the meat is tender and ready to eat. You should be able to easily slice it with a blunt knife, and it should be falling off the bone.
Sieve the cooking liquid to use as gravy. You may need to thicken it, but if you have got the liquid amounts right it should be thick enough. Otherwise you can easily thicken by using ½ tsp of corn starch dissolved in a bit of water, adding to the sauce and heating in a pan.
Alternatively you can spoon up the cooking liquid 'as is' to flavour your mashed potatoes or whatever you wish to serve as accompaniment.
Notes
Serve the ribs up with some buttery mashed potatoes and vegetables of choice. Here I served up with some roasted carrots and honey roasted parsnips.