Slow cooked Oxtail
There is nothing quite like the taste of slow-cooked oxtail meat. The meat from oxtail is on the bone and is surrounded by lots of fat and sinews. When slow cooked it releases a wonderful taste into the sauce that makes it a real comfort food.
The taste of the oxtail meat is just wonderful as it is cooked on the bone. This is a simple oxtail recipe that you will want to repeat over and over.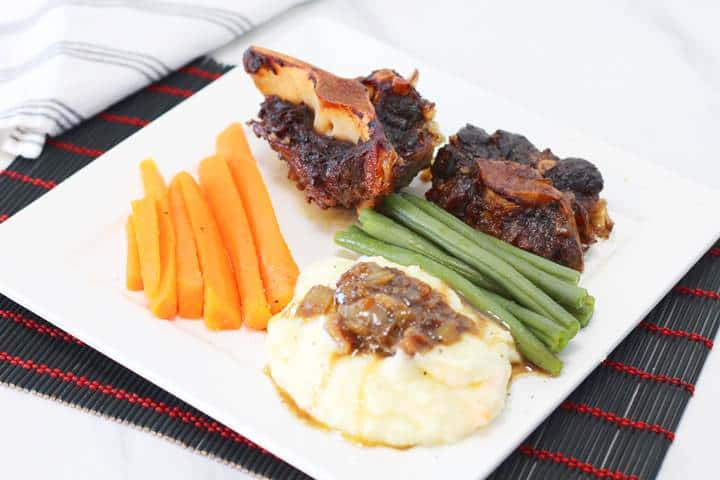 Oxtail is the tail of a cow. It is traditionally a fairly cheap cut of meat and your butcher is likely to have some hidden away if it is not on display.
My butcher had some frozen pieces which he cut with a band saw for me. I let them defrost in the fridge first for a day before I cooked them.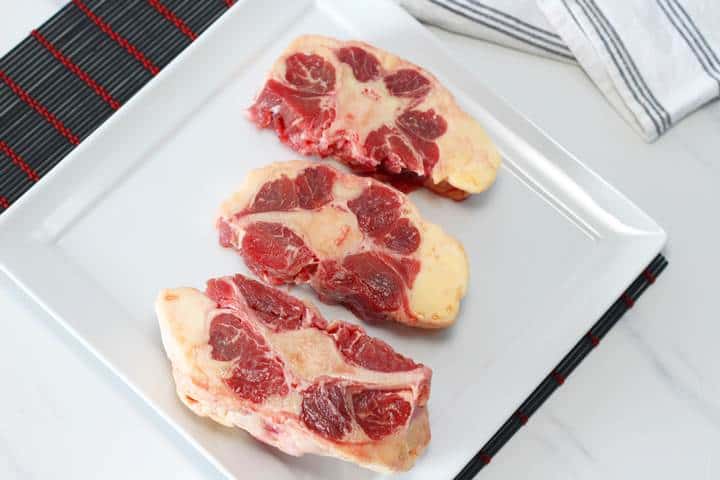 The pieces I had were quite fatty. The fat does add a lot of taste to the sauce, but you should skim it off with a spoon before serving up. If there is too much fat on the pieces you have, you should , of course, remove some fat before cooking.
Commonly oxtail is used for making oxtail soup and oxtail stew. This is in effect an oxtail stew recipe, but I served the meat up separately to the juices used to cook the meat. Just because I think the taste of the meat is so good it should be enjoyed individually.
My oxtail cuts were not that thick, which is great as you need less juice in the pan, but it meant less meat per cut. A slightly longer cut would perhaps be better.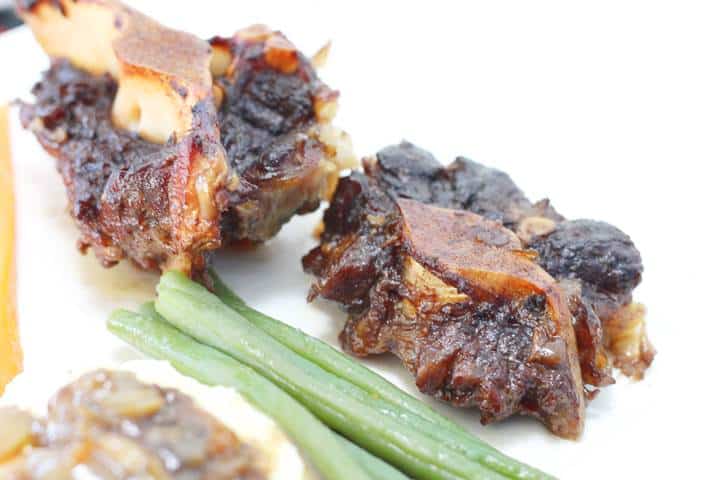 Crockpot Oxtails
I do not have a slow cooker so I have made this in my trusty Le Creuset casserole dish (Dutch oven) in the oven. But you can also make this meal in a slow cooker or crockpot.
Le Creuset 5 Quart Oval French Oven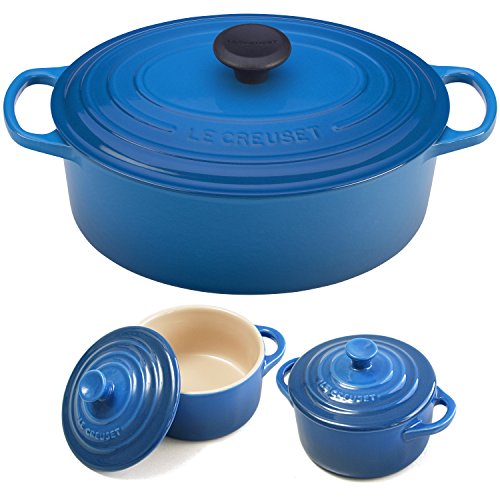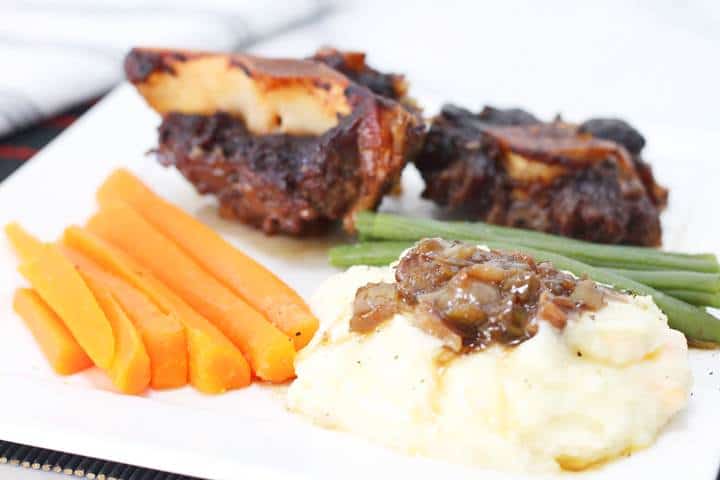 Just follow the same directions to brown and fry the meat and vegetables and put it all in the crockpot. You can then cook on a lower temperature for longer if you so wish.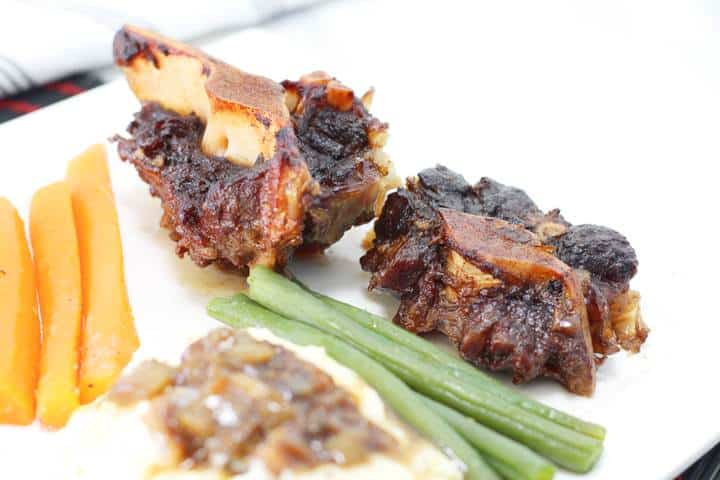 I hope you enjoy this recipe and do not wait too long to try it, as I guarantee you will make it again!
How to cook oxtails
Slow cooked Oxtail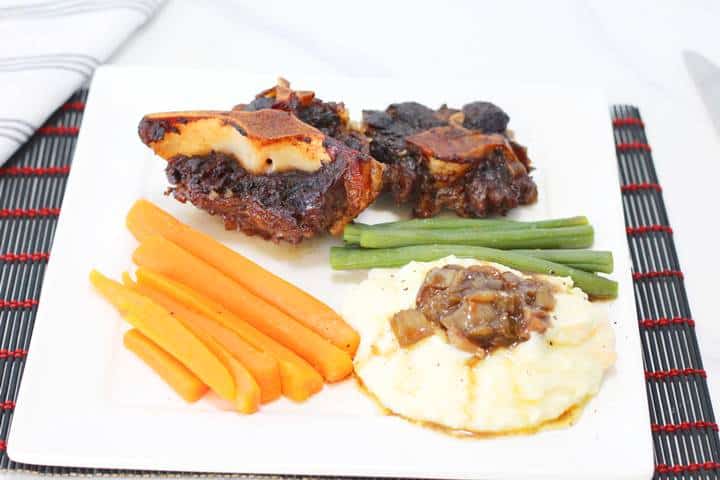 This slow cooked oxtail recipe is a delicious way to cook this cheap cut of meat. The rich sauce makes a super tasting gravy - 'stupendous' is a good way to describe.

Prep Time 10 minutes

Cook Time 3 hours 30 minutes

Total Time 3 hours 40 minutes
Ingredients
Some oxtail cuts. (I would use 2 per person)
Vegetable oil
2 red onions, sliced
1 brown onion, sliced
1 celery stick, chopped
1 leek, chopped
2 carrots, chopped
450 ml beef stock
1 cup red wine
2 Fresh Thyme sprigs
2 bay leaves
2 tbsp Worcestershire sauce
Salt and pepper
Instructions
Pre-heat the oven to 170C.
Let the oxtails reach room temperature before starting. Lightly cover all sides with salt and pepper.
Then brown the oxtails on all sides in the vegetable oil in a pan. Do this in batches if need be. When browned then put them aside in the casserole dish.
Prepare the vegetables and then fry the onions in the same pan and add to the meat. Then fry the leek and celery and add to the casserole. Then add the carrots, stock, wine, thyme, Worcestershire sauce and bay leaves to the casserole.
Make sure that the oxtail pieces are covered by the liquid. If not then add more stock.
Place casserole in the oven for about 2,5 hours. Then check level of liquid in the pan. If need be, top up with water.
Increase heat to 180C and cook for a further hour or until the meat is tender. Remove the oxtails from the pan and cut off any remaining fat before serving up.
Skim the fat off the top of the cooking liquid with a spoon before serving up as a meaty vegetable gravy to go with the dish. If you need to thicken the sauce, you can mix some flour in water and add to the sauce and stir on the heat.
Notes
Serve up with buttery mashed potatoes and vegetables of choice. Here I served up with some simple boiled carrots and beans. There is so much taste in the gravy to complement the simple vegetable side dishes.

If you enjoyed this recipe, you may want to try my slow cooked beef in beer recipe.