Rack of lamb
A rack of lamb is one of my favourite lamb dishes. I always used to order this in the past, if eating out and they had it on the menu. I must admit in the past I was a Philistine and ordered the meat well done, as I loved the taste of a well-done piece of lamb.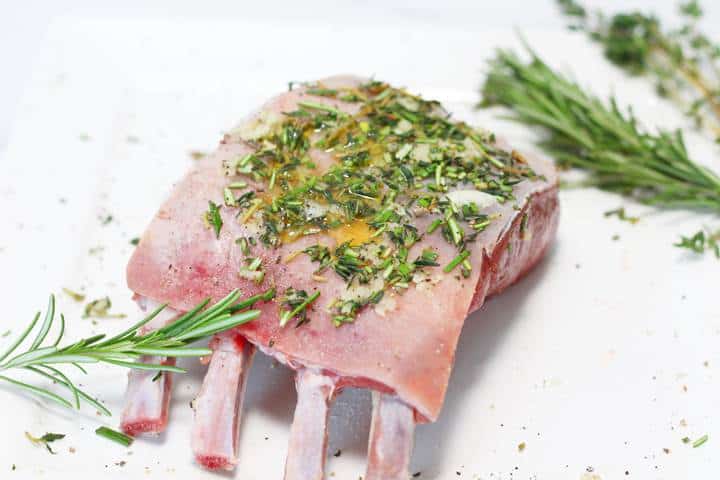 However, now I have learnt how to enjoy a rare piece of lamb, which is really just delicious when lovely and tender like the one in these photos. I cooked and ate this myself and it really is easy to do. Really a lamb rack should be served up rare.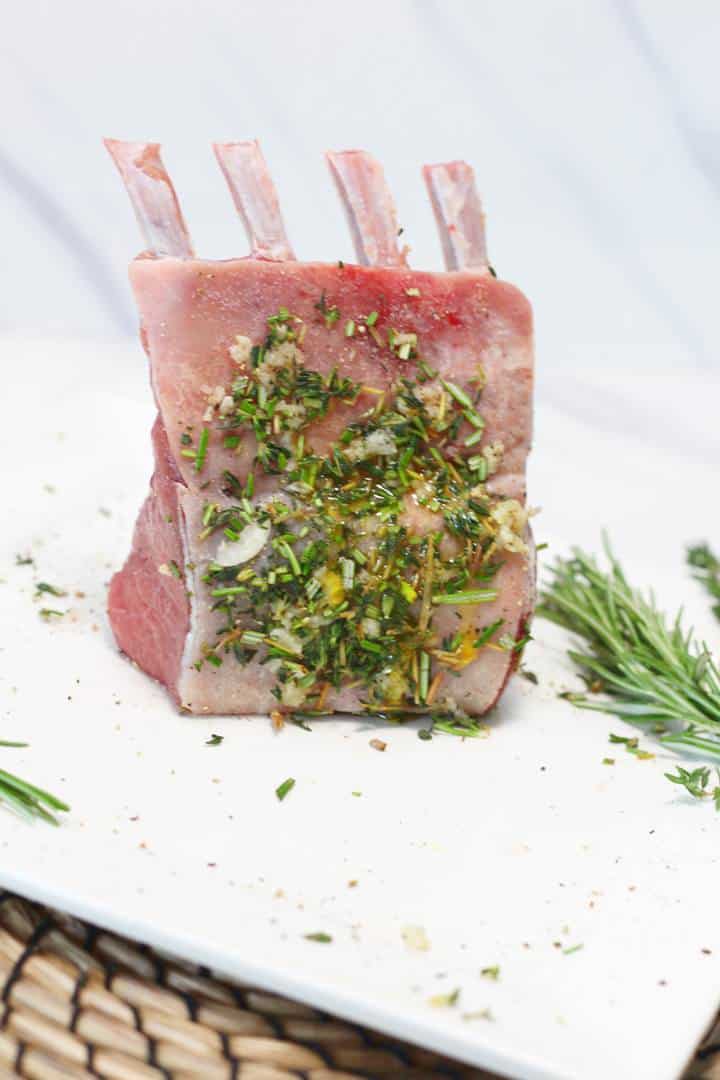 Lamb cuts
A rack of lamb originates from the ribs of the animal and is an extremely tender part. It is normally quite expensive, but I bought this lovely rack from Hickie's in Kilkee for 7 Euros, which I did not think was too bad. It will cost you more than that in a restaurant!
This link to James Whelan butchers shows some of the different cuts of lamb you can find.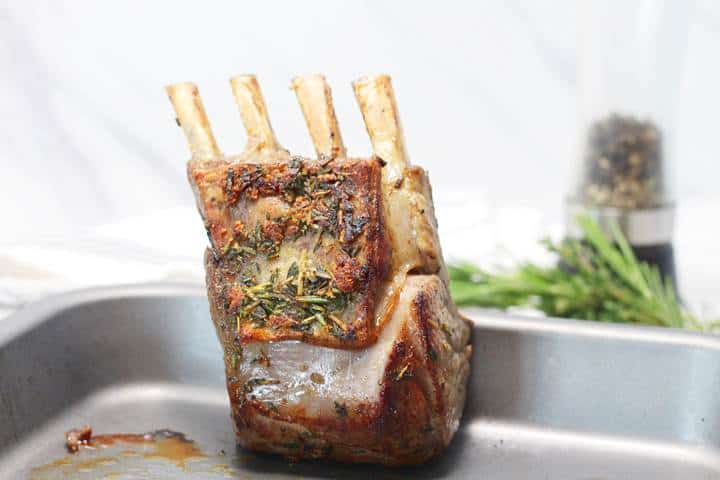 Serve it up with a reduced port wine sauce and it is super yummy.
It is very easy to cook. The preparation is minimal and the result a feast worthy of kings.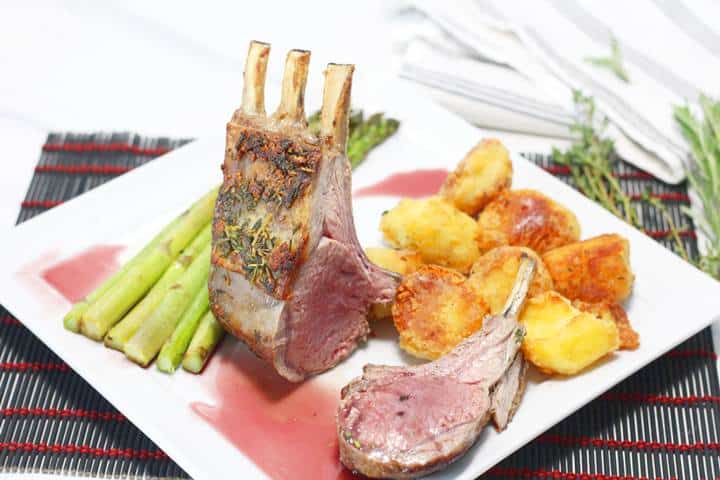 There are many ways to cook a rack of lamb, and some may be better than others. But this is my very easy way, which keeps it simple and brings out the delicious taste of the meat.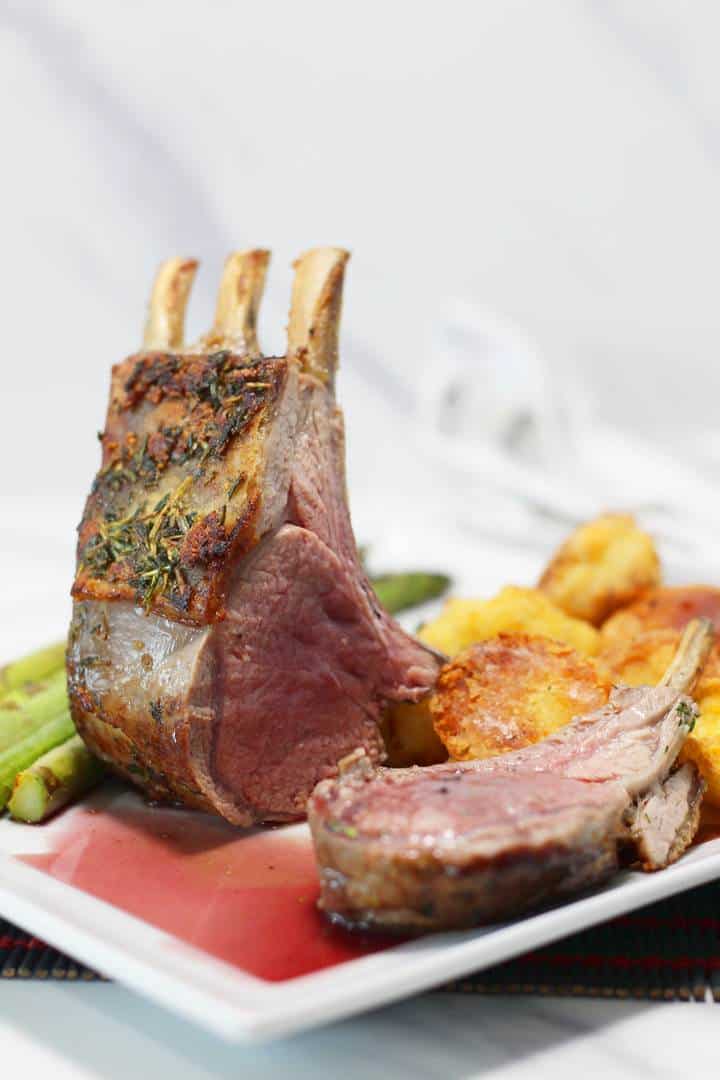 The recipe below only really fed me, but I suppose you could feed two with it if you are not as greedy as me 🙂 . Slice between the bones to separate the cutlets from each other.
You should give it a try.
How to cook a rack of lamb
Rack of lamb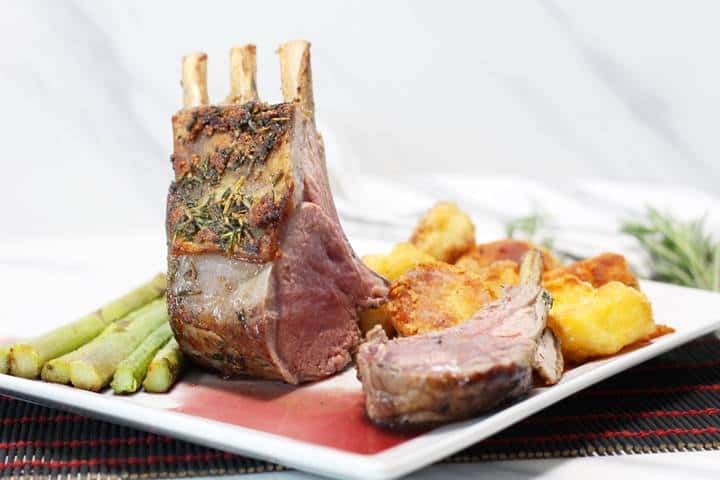 A rack of lamb cooked rare is a delicious treat and one of my favourite lamb recipes. It is easy to cook and is a great dish for a dinner party

Prep Time 5 minutes

Cook Time 16 minutes

Additional Time 10 minutes

Total Time 31 minutes
Ingredients
1 four bone rack of lamb
20g salted butter
1 tbsp olive oil
Fresh Thyme & Rosemary sprigs, chopped
1 Red onion
2 garlic cloves, crushed
25ml red wine vinegar
150ml port
1 tsp sugar
1 tsp honey
Salt and pepper
Instructions
Remove lamb in advance from the fridge to allow it to reach room temperature.
Cover the lamb on the skin side with the olive oil, thyme, rosemary, half the garlic and season with salt and pepper.
Heat the butter in a pan and sear the skin side of the lamb for two minutes.
Then sear the bone side and the sides for 30 seconds each.
Place the lamb, bone side down, on a baking tray on a pre-heated oven at 200C.
Roast for about 12 minutes for rare or longer if prefer your lamb better done. The pictures show a 12 minute roast.
Remove from the oven and leave to rest covered with foil for 5-10 minutes.
For the sauce put the chopped onion, half the garlic, the port and red wine vinegar, sugar and honey into a saucepan. Heat until simmering. Then reduce the mixture until it thickens. This takes about 10 minutes. Then filter off the liquid using a sieve into a pouring jug.
If you like the look of this meal then try my recipe for roasted potatoes and oven roasted asparagus that go great with this!